Searching for ways to add interest to your portraits? Here's how to kick your portrait photo framing up a notch with a simple prop you probably already have at home.
Incorporating props is one of the easiest, most surefire ways to make a portrait photo session more fun.
And every portrait photographer knows that subjects who are having fun tend to make for better, more genuine photos! Unless you're going for a moody look in your portraits—but of course props can also do a lot when it comes to amping up the dark and mysterious atmosphere of your moody shoots.
Today we want to suggest adding a basic household item to your portrait shoot. That's right: the humble picture frame can add interest and depth to your portait photos. And since you're incorporating a literal frame into your shots, framing your photos perfectly is sure to be easier.
We've curated a few of our favorite examples of picture frame portraits from the talented photographers on Pexels. These portrait ideas are sure to inspire your next shoot—especially if you're stuck at home trying to think of fun photo ideas.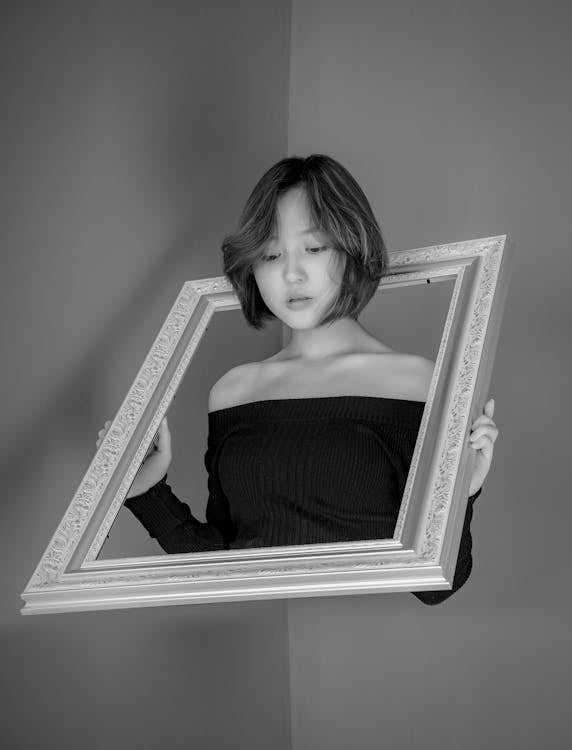 A little bit of Photoshop finesse can easily add some surrealism to your picture frame portraits. Cutting off the model's body outside of the picture frame here gives a result that feels pretty magical and weird. Try taking a bunch of picture frame images and then go wild with editing and see what kind of interesting framing results.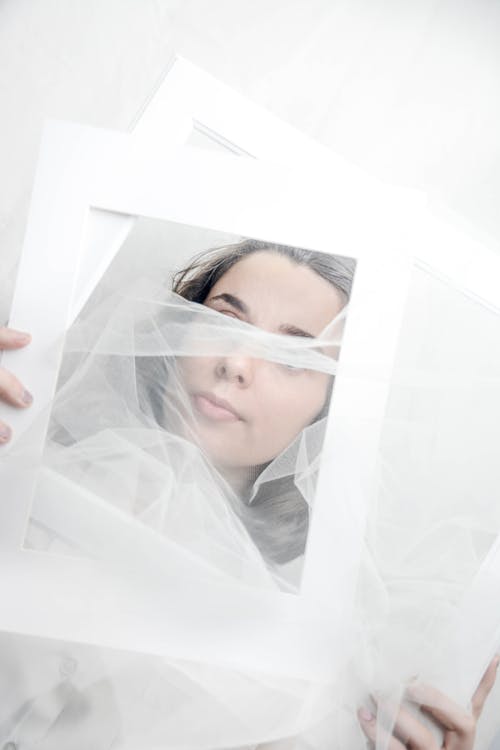 In this shot the photographer gets creative by adding layers of sheer fabric to partially obscure the model's face. The combination of fabric and frames gives an artistic effect. Picture frames play well with other props if you're aiming to create an especially artsy result at your portrait shoot.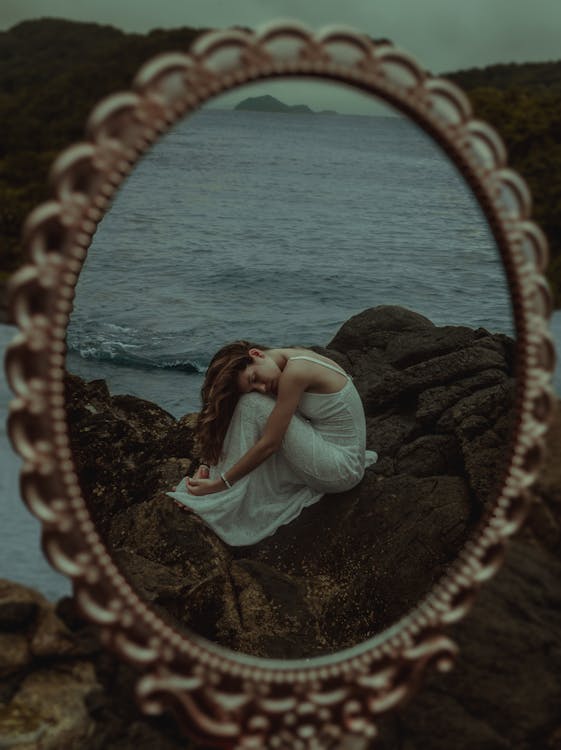 Go beyond the basic picture frame portrait by using a framed mirror instead. Lining up this shot may take a few tries, but the results are dreamy. Capturing a little bit of your surroundings beyond the mirror frame adds interest to the image, creating a beautiful framing effect for your composition.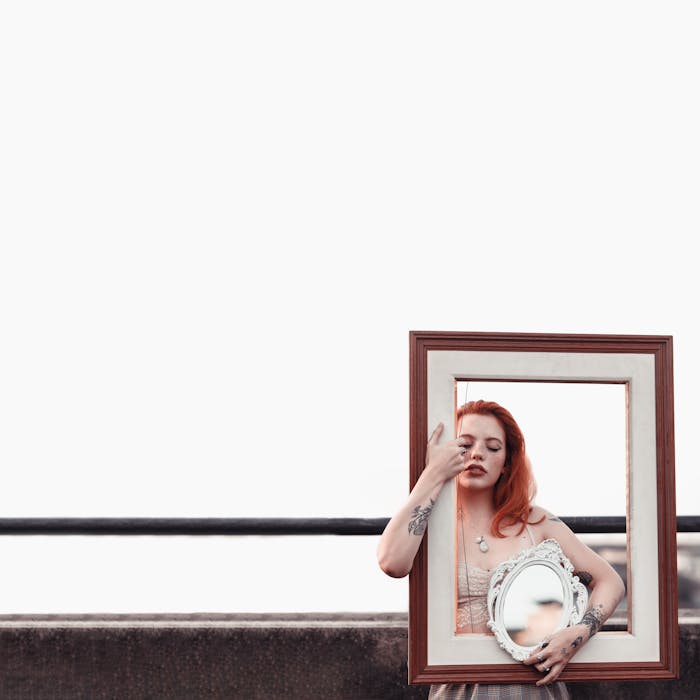 The ultimate flea market chic look—raid your basement or visit a garage sale to get some fun antique-y frames for your shoot. Another note: the unexpected framing of this composition really takes the image to the next level.
Ask a friend to lend a hand to make it easier to nicely frame your photo subject. Here, the surprising framing imposed by the picture frame makes what would otherwise be an everyday image into a much more memorable photo.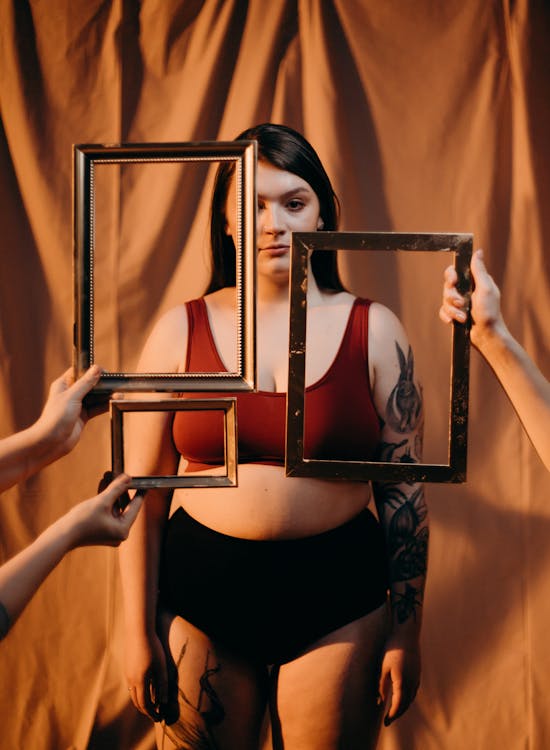 Or recruit a few friends and find a few frames to create an interesting geometric composition. Adding multiple frames in front of your photo subject makes for an almost Cubist-inspired image, which lots of fun possibilities for experimenting with framing.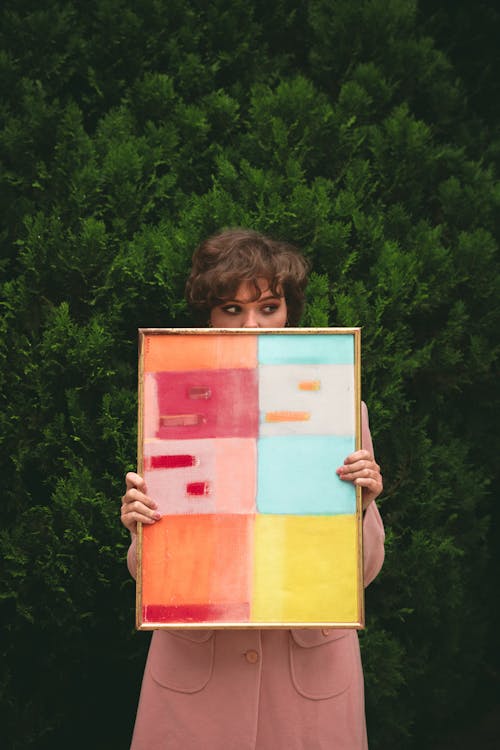 Steal inspiration from this Wes Anderson-vibe image, and also steal (or borrow, preferably) a piece of artwork, and you've got yourself a unique and fun portrait shoot. Partially obscuring your model with the picture frame is a simple way to add mystery to a shot.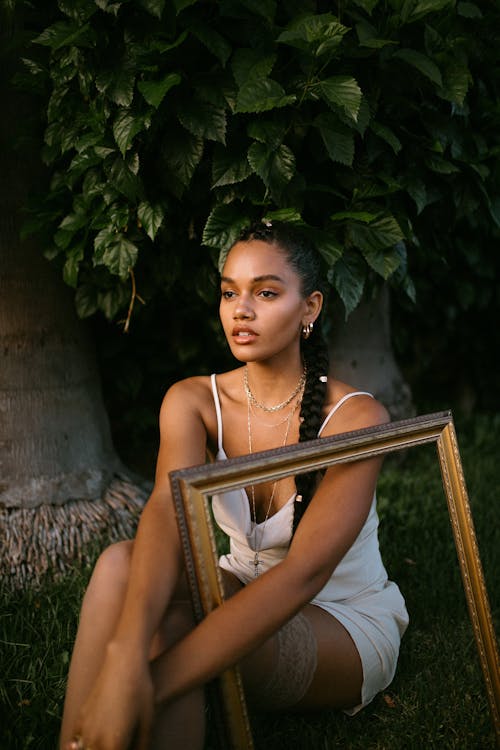 The picture frame here almost feels like an afterthought—yet it still adds a surprising layer to the portrait, grabbing your attention and directing the eye to the center of the image. (We know we already featured an image by this photographer up top, but the shoot was just too good not to repeat.)
Share your portrait photo experiments with us in our latest challenge for a chance to win a fun prize!
Cover photo by Nesrin Danan.
Editor of Pexels Stories and 35mm photographer
Del denne historie