Empowering people to create is what we're all about at Pexels.
When UK-based product designer Craig Dennis takes to the computer to bring his designs to life, he frequently uses Figma, a popular design and prototyping tool used widely by UX and UI designers.
Recently, when Craig needed some placeholder imagery for a project, his first thought was Pexels, where he's an avid contributor with over 25 million views.
"I couldn't believe Pexels didn't have a Figma plugin," Craig says. "I figured, if I need it, then somebody else probably needs it." He decided to try building a Pexels plugin himself, just for fun. "If no one else is going to make it, I'll try and do my best."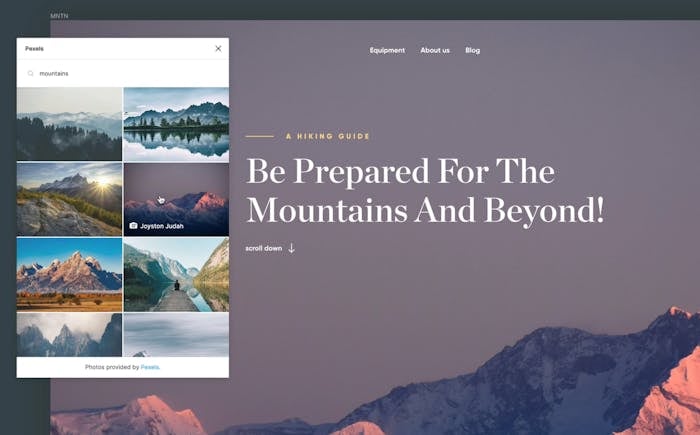 That's how Figma became the latest creative tool to include direct access to Pexels content.
Figma plugins can be developed by anyone in the community—they offer a wide selection of plugins that make the design process easier, from plugins that improve workflow to niche tools for sorting colors.
Craig says he learned a lot from his foray into plugin creation. "It was a learning experience for me. I hadn't worked with an API before." His Pexels plugin was a success, and once the Pexels team found out about it (via Twitter!), we collaborated with Craig to make the finalized plugin official.
Designers using Figma can now seamlessly search the Pexels photo library directly within Figma, without interrupting their creative process to hunt down imagery elsewhere.
While Pexels content of course makes for great placeholder images, you can also use Pexels photos in your final product! No need to source expensive paid stock for your app background or website splash page. UI and UX design can often call for a lot of images, from sample profile pictures to loading screens.
The Pexels Figma plugin takes the hard work out of finding those images, freeing up time for designers to keep their focus on building the next App Store success story.
Craig's attitude to creating this plugin exemplifies the creative, open-source spirit we're always trying to foster at Pexels. He didn't have much coding background, but he saw an opportunity to learn new skills and create something that helps other people out.
Craig says that his motivation for building the Figma plugin was similar to the reason he joined Pexels in the first place: "It's about the sense of satisfaction, and contributing to a broader community."
Try the Figma plugin yourself here.
Cover background image by Scott Webb.