Instagram is a photographer's dream. Not only is it a great place to seek out inspiration, it's also one of the world's biggest business marketplaces—and for those looking to hire a photographer or buy prints, Instagram is often the first port of call.
It's for these reasons that Instagram makes a great second portfolio for photographers. The profile grids act as a virtual collection where you can show off your favorite snaps. But in order to convert images into sales and leads, you need more than just a pretty portfolio.
An effective Instagram feed requires forward planning, strategy,and purpose, to ensure your photos get in front of the right people and entice them to take action.
Here, the team at Plann—a social media planning app used by over two million brands—shares their expert advice on how you can turn your photography into a powerhouse Instagram page, with six simple steps.
Pexels photographer Brayden Law keeps his feed consistent at @brayden.law.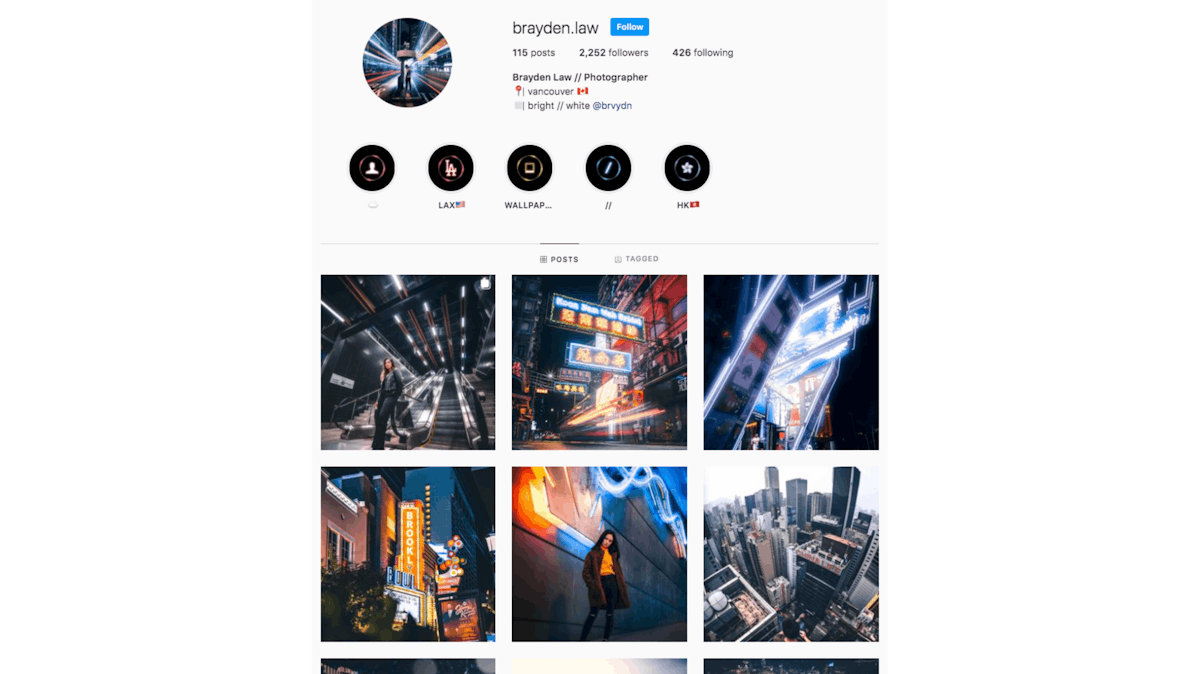 Get strategic
Having a beautiful Instagram feed is undoubtedly important. But if there's no strategy behind what type of content you're posting and when, it's unlikely to get the results you're after—whether that's building your following or getting more inquiries into your inbox.
It's important to have clear intentions behind each and every Instagram post which are informed by your overarching strategy. This will help guide the sequence in which you post your photos, as well as the captions and hashtags that accompany them.
The good news is, you don't have to be a professional brand strategist to create a purpose-driven Instagram feed.
An easy option to bring purpose to your posts is to try out Plann's in-built strategy themes, which help ensure your feed contains a strategic mix of content based on your specific goals. Using this as a guide, you can slot in images from your content library that will best help you achieve those goals.
Curate and schedule ahead
Consistency is key on Instagram. Not only does it make your brand look more professional, but it helps build trust with your audience as they come to know what to expect from you.
When you're posting your content on the fly, it can be hard to achieve a consistent and aesthetically-pleasing feed. You may find that you end up with two photos side by side that clash, or a grid that overall looks too messy and cluttered.
The solution? Map out your feed ahead of time using a social media scheduling tool, like Plann. You'll be able to import in all of your images and drag all the squares in your grid around until you're happy with the positioning. This will help you achieve a far more polished and cohesive feed, and save you loads of time and stress, as you won't be constantly scrambling for something to post.
Pexels photographer Francesca Zama creates a perfectly coordinated feed at @zem.portraits.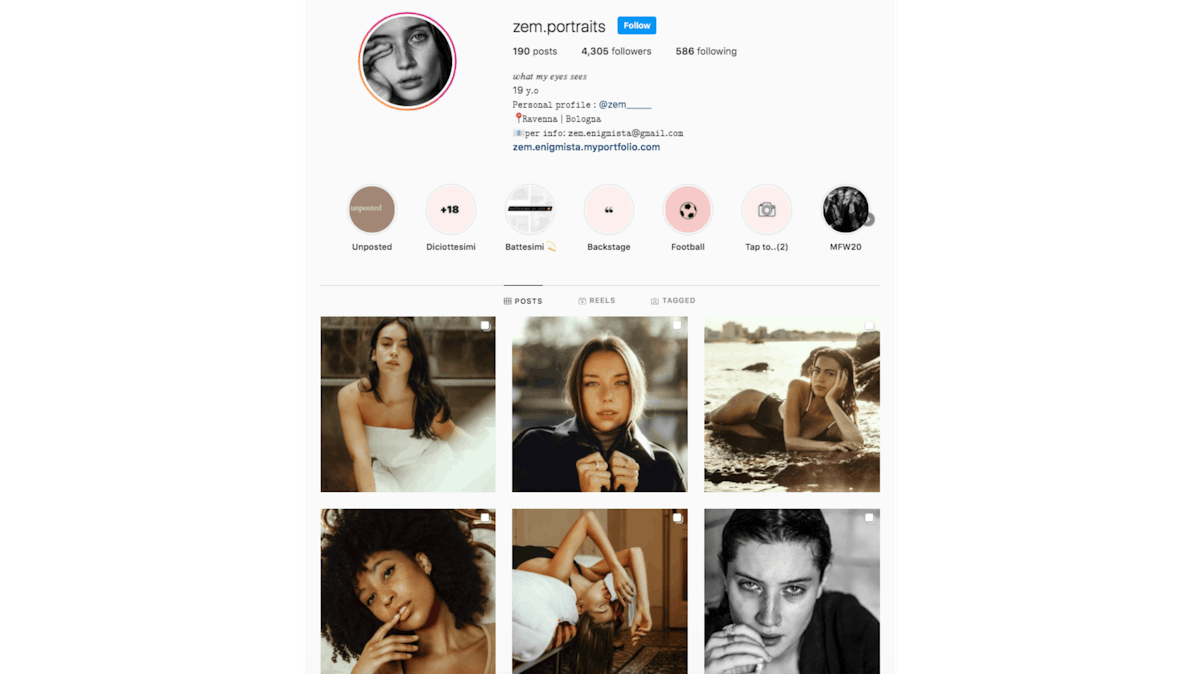 Edit the easy way
Whether photography is a hobby or you do it for a living, you already know about the power of great editing. Editing has the potential to take a photo from good to great and give it that extra wow factor.
That said, editing photos for Instagram is a whole different ball game. You're no longer just thinking about what edit is going to be most suitable for that particular client or will help you bring a particular vision to life.
All of the photos on your Instagram feed should ideally have a similar aesthetic, so that it all looks consistent and coherent. For example, you don't want to have one photo on your feed that's light and bright, then the next is dark and grungy, then bold and bright, and so on.
That's not to say that you should limit your creative expression and only take photos for Instagram that fit into a certain look. That would be boring! Instead, try using filters and presets to give your photos a quick edit for Instagram.
These pick up certain hues in your photos and adjust them so they're the same across all your images, or add an overlay on top of a shot to give it a similar warmth. Presets or filters are the easiest way to help you quickly achieve a consistent feed without having to do a thorough Lightroom edit on every photo. You can do this within the Plann app right before you schedule, by using the filters library (and other editing tools, if you need to make adjustments).
Don't forget about Stories
It's not all about the grid! Instagram Stories are a great place to feature some of those snaps you love, but that might not be quite on-brand enough for your main feed. Stories are also excellent for sharing some of those more candid, behind-the-scenes moments from shoots.
Another great way to use stories to showcase your photography is with collages. A collage allows you to collate a few images on a particular theme (such as from a particular shoot or trip) and post them all together.
Canva is a great free, beginner-friendly design tool you can use to quickly create Instagram Stories, using templates already tailored to the correct dimensions. You can even access Canva templates directly within Plann, so there's no need to leave your Instagram scheduler to craft a Story collage.
Pexels photographer Nataliya Vaitkevich shares a nicely curated highlight reel at @Natali_Voitkevich.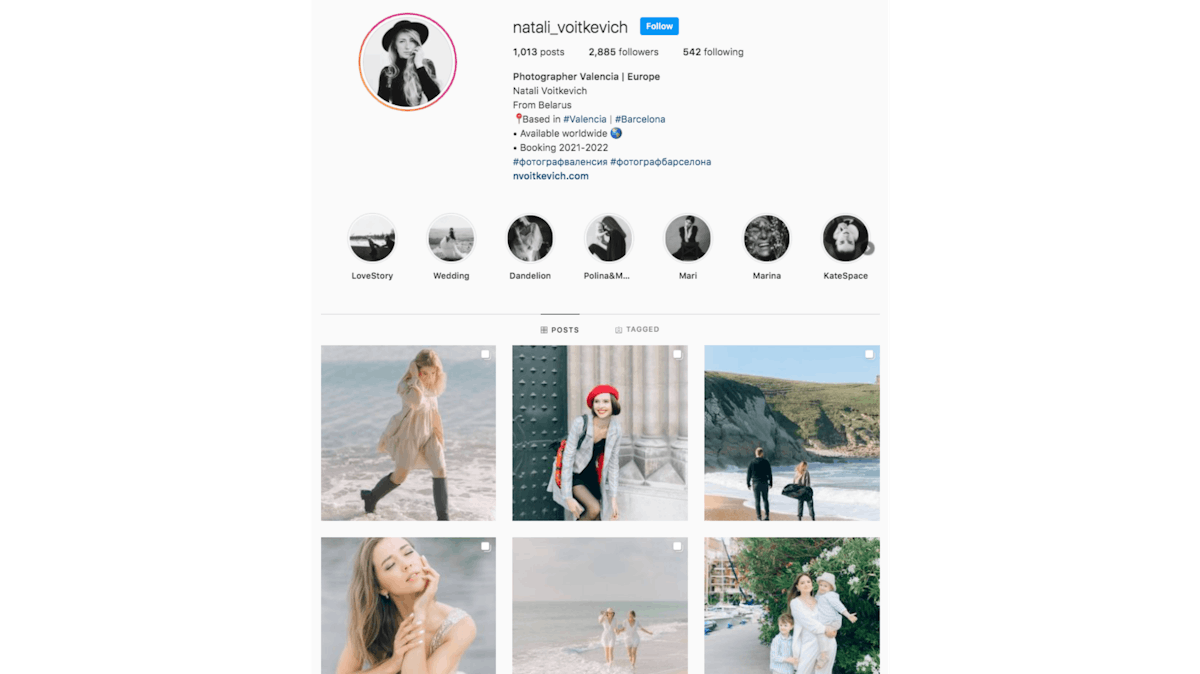 Show off your Highlights reel
When you work so hard to capture such breathtaking images, it can feel like a bit of a shame to have them disappear from your Stories within 24 hours. The good news is, they don't have to! You can actually immortalize your favorite Stories on your feed for your followers to admire forevermore, by adding them to your Instagram Highlights.
This is the little bar that sits above your grid, and it's a great place to showcase the photos you're most proud of. The best part is, you can even give your Highlights themes by adding a Highlights cover graphic.
So, if you're a destination photographer, you could add a Highlight for the different destinations you've visited and add photos to each of this. Or if you have a range of different services within a specific photo niche (such as newborn photography, children photography, and family photography) you could use your highlights to showcase these.
Monitor your results
The Instagram algorithm can be a mysterious beast. What works well on other social media platforms or even appeals to a mass audience may not necessarily be what performs best on your feed.
For example, you might post one of your all-time favorite photos, only to hear crickets when you post it on your feed. But on the other hand, you might casually post a photo you feel lukewarm about, but find it goes absolutely gangbusters!
There are many different factors that affect how well a photo performs on Instagram—from the colors you use in it, to the caption that accompanies it, and even the time you post. There's no point posting a stunning snap, only to have it seen by nobody.
The good news is, you don't have to be a mind reader to figure out what your audience want to see from you. By using the analytics tool in a social media scheduling tool like Plann, you can see exactly what's working for you—and what's not.
This data will show you which posts attracted the most likes, comments, shares, and follows, so you can tweak your strategy accordingly. In Plann, you can even see what color palette is performing best for you, which can help guide what photos you post.
By following these simple steps, you can make the most of the time and effort you're putting into posting on social media. That way, you can do your beautiful photos justice and make your Instagram portfolio work harder for you.
Plann is a powerful social media scheduling app used by 2M+ of the world's best brands. Available on iOS, Android and desktop, it features scheduling, strategy, and analytics tools. Start scheduling your beautiful and strategic feed today. And take 25% off with code PLANNXPEXELS25.
Cover photo by Errin Casano.